Handmade furniture

Certified amazon hardwood
Carefully selected slabs

For your perfect table
From the guts of the Brazilian Amazon forest

certified by IBAMA, No. 6447757
Unique details

Metal legs also made by Selva
Make your home even more cozy

by using Selva Hardwoods
Handmade furniture
Certified amazon hardwood
Carefully selected slabs
For your perfect table
From the guts of the Brazilian Amazon forest
certified by IBAMA, No. 6447757
Unique details
Metal legs also made by Selva
Make your home even more cozy
by using Selva Hardwoods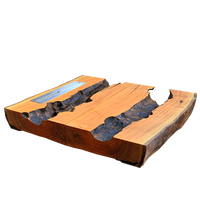 Nature's works of art in the form of rustic and contemporary furniture.
Sustainable solid wood, sculptures and logs in one place.
Selva Hardwoods' solid wood furniture represent the best of what the interaction between man and nature can express translated into furniture. From the guts of the Brazilian Amazon forest, carefully chosen, a residue can be seen as a sculpture of solid wood, unique, unforgettable and striking. 
Make your home even more cozy by using Selva Hardwoods dining tables, coffee tables, benches, counter tops and console tables in your décor.